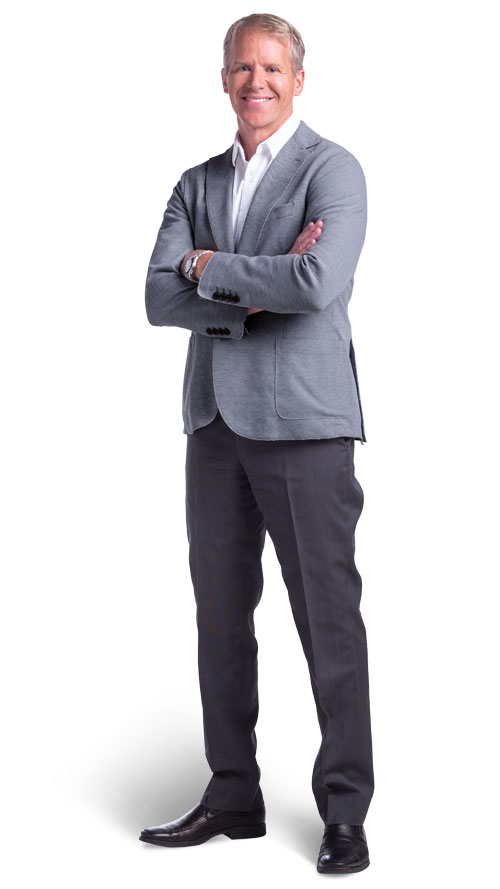 K. Brian Romaneschi, M.D.
The career path of Brian Romaneschi was etched out during his childhood years. One important influence was his mom and her Catholic faith that emphasized the importance of helping others. Another influence was the lasting psychological effect of having a scar on his lip from an injury at just six years of age. By ninth grade, Dr. Romaneschi already knew that he wanted to help people avoid noticeable scars, especially on the face. The fact that he always excelled at science sealed the deal.
From the start, this doctor's passion and drive have defined his career trajectory. As a medical student at the University of Washington School of Medicine, Dr. Romaneschi often went to the emergency room to get extra suturing practice to hone his skills. During his residency at Johns Hopkins, he worked on a patient who had fallen off a ladder and was in danger of losing his nose. Dr. Romaneschi meticulously worked to sew him back up, saving his nose and leaving almost no evidence of the accident. It was a success that reinforced his career path.
Dr. Romaneschi joined SNENT in 1996 just a year after it opened, reuniting with his residency colleague Dr. Paul Manoukian. While versed and skilled in all aspects of ear, nose and throat care, Dr. Romaneschi is highly experienced in sinus and allergy evaluation and surgery, thyroid and parathyroid surgery, and head and neck surgery. Always looking to further his knowledge, Dr. Romaneschi stays at the forefront of the Ear, Nose & Throat field, always working towards the newest and most advanced procedures. Dr. Romaneschi also specializes in facial surgery, otoplasty, rhinoplasty, scar revision, eyelid rejuvenation, and laser resurfacing are among his many strengths.
He sums up his approach to medicine this way, "We're not cranking out widgets, we're caring for people." And he lives that approach in the way he invests the time to educate, comfort and care for each of his patients. (Just like his mom taught him.)
Dr. Romaneschi was voted top ENT physician for Northern Nevada by Grand Rounds, a top-rated national organization of which he is a member.
Dr. Romaneschi served as Otolaryngology faculty member and lecturer for the Annual Symposium on Sports Medicine at Barton Memorial Hospital, a national sports medicine conference. He lectured specifically on ENT sports-related injuries at the conference. He also lectured for three years at the University of Nevada, Reno pre-med society and taught futuristic techniques. Also at UNR he served as a mentor for numerous physician assistants and pre-med students.
Dr. Romaneschi is married and has four children. As evidenced by his resume highlights, including a medical mission to Vietnam, he is an all-around good guy who cares about his community and the world. His off-hours, when he can find them, are spent scuba diving, cycling, traveling, skiing, hiking and recreational car racing.